Your One-Stop Ocean, Inland, Air & Rail Specialists
We service First Time Shippers, Dealers, Supply Chain Management, and everything in between
First time shippers appreciate the streamlined process
Dealers & Manufacturers respect the speed and accuracy
Tracking is available for your cargo
All cargo is licensed, bonded, and insured*
All Customs paperwork is filed in-house
* Insurance for ocean, air, and rail are optional and up to the shipper's discretion.
* All inland transports will be fully insured.
JBH Worldwide is a fully licensed Freight Forwarder and Customs Broker that specializes in Auto and Heavy Equipment Export Shipping to numerous ports all over the world.
Located in central New Jersey, we are your experienced Customs Clearance Professionals for your export shipping and import shipping needs. We can arrange the pickup, cleaning, repair services, containerization of all types of products even large Caterpillar Export Shipping loads.
We partner with widely established networks of carriers for shipments by land, sea and air to provide you with the best and most cost-effective option way to get your cargo to its destination.
Our Mission
Our mission is to ship your vehicle, machinery, household goods, food & perishables and other commidities as safely, efficiently and cost effectively as possible.
We provide a seamless process from quoting to final delivery of cargo. We can do this because we handle EVERY aspect of the shipping process in-house. This save you stress, money and ultimately, time!
Licensed and Certified by:
U.S. Customs
and Border Protection
U.S. Customer and Border Protection


US Customs Broker License: 28434

FMC - Federal Maritime Commission


License #022523NF

IAC - Indirect Air Carrier (US Department of Homeland Security) - TSA
License #NE1511006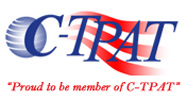 C-TPAT - Customs-Trade Partnership Against Terrorism
SVI#: 3b4838ee-97e1-4dce-9daa-0215c7f5f1bc
FMCSA - Federal Motor Carrier Safety Administration
License #MC-843754-B
National Motor Freight Traffic Association's Standard Carrier
Alpha Code #JBHW (Trucking)
Alpha Code #JBHD (International Sea Shipping)
FDA - US Food & Drug Administration
Why Choose JBH?
We take our combined 40+ years experience and put it to work for you and your cargo. With each load, every aspect of the shipping procedure is handled in-house. By offering these services in-house, we mitigate the risk of delays and fees.
We understand that the most important aspect of shipping or transporting your cargo is trust. We provide a clear and very competitive rate without any surprises, along with any other specific procedures that need to be accomplished prior to arrival at the final destination. We handle your cargo as if it is our own. We pride ourselves on being competitive in the industry for over 11 years while cultivating many lasting partnerships with our clients.
We enjoy helping you; ship your vehicle overseas, ship machinery to a new jobsite, supply your foreign dealership with high quality vehicles, help you relocate with all your house-hold items or any other commodities. We also specialize in the import and export of perishable food items.
Contact us today to learn how we can help you with your shipping needs.