We handle ALL the shipping details
At JBH Worldwide, we know you want to get your cargo to its destination quickly. That's why we work with a wide network of land, air and ocean carriers to transport your goods as efficiently as possible and at a great rate.
Here are some of the Services we provide:
Inland Trucking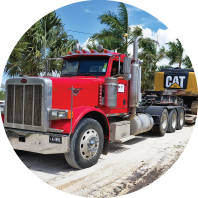 We work with drivers that run dedicated lanes for us and have a network of over 20,000 owner operators. They make sure to provide the highest level of service including the fastest pick up and delivery times of your cargo. We check every driver every time they execute a load for us with the FMCSA to make sure their license is valid and that their insurance is current, with a minimum of $100,000 in cargo coverage. If additional insurance is needed we can cover your cargo for whatever value you declare.
We are usually able to have all cargo loaded on our trailer within 72 hours of receiving the shipping order. We offer FTL and LTL options for your specific freight needs. This gives you the ability to only pay for the space on the trailer that you need. We have an extensive list of partner agents throughout the world to assist with the transportation of your cargo once it reaches the destination port.
Ocean Freight
There is no port in the world that we cannot reach. We offer RoRo (Roll-On/Roll-Off), FCL & LCL, breakbulk, and bulk shipping service. Since 2003, we have developed firm partnerships with many ocean vessel carriers. This translates to quick and accurate quotes, cargo tracking, and expedited releases once the cargo arrives at the destination port.
Air Freight
If you require the fastest service for your cargo, we recommend shipping with one of our partner air carriers. We only work with qualified truckers that have specific credentials to make deliveries to airports. This will save you countless hours searching for the correct company to handle these important shipments. No item is too small. We handle all customs paperwork and air-waybills. Let us see if we can add air options into your portfolio to increase the speed that your customers receive their orders.
Customs Clearance
Whether exporting a vehicle, transporting household goods or importing cinnamon from Asia, we handle all of the customs paperwork involved with your shipment. Most issues with the import/export process happen when certain criteria are not met, when the cargo is scheduled to depart or the cargo arrives. Handling this process in-house streamlines the process with clearing your cargo at any US port and gives you the time to focus on your business. Let us and our experience work for you with customs clearance procedures.
Warehousing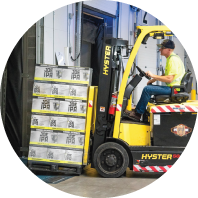 If you are moving to another country and have to leave prior to your vehicle and household goods sailing to you, your best option is to have your cargo stored at one of our secure warehouses. If you have one shipment arriving that needs to be separated for final delivery to three different locations, the solution is to have your cargo sorted at one of our warehouses. We breakdown the total shipment into smaller orders according to your load list. Then we schedule the delivery of each load to the final destination, rather than sending one driver to three different locations. That would be a waste of time and money! We work with a proven network of secure, bonded warehouses throughout North America. The benefits of exploring warehousing options will provide secure storage of your cargo, professional handling, optimizing the way your cargo will move through the various methods of delivery to save you as much money and time as possible, and reduce the stress.
Commercial Services Available
If you ship regularly we offer many discount programs that could benefit you. We start by offering a complimentary supply chain review. This will see where we can immediately save you money with your existing shipping schedule. This review can also find potential to rework the routing of your cargo in order to optimize your money spent on shipping. Please reach out to one of our agents to discuss which option we provide will benefit you the most.
Our Mission
Our mission is to ship your vehicle, machinery, household goods, food & perishables and other commidities as safely, efficiently and cost effectively as possible.
We provide a seamless process from quoting to final delivery of cargo. We can do this because we handle EVERY aspect of the shipping process in-house. This save you stress, money and ultimately, time!
Licensed and Certified by:
U.S. Customs
and Border Protection
U.S. Customer and Border Protection


US Customs Broker License: 28434

FMC - Federal Maritime Commission


License #022523NF

IAC - Indirect Air Carrier (US Department of Homeland Security) - TSA
License #NE1511006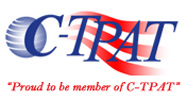 C-TPAT - Customs-Trade Partnership Against Terrorism
SVI#: 3b4838ee-97e1-4dce-9daa-0215c7f5f1bc
FMCSA - Federal Motor Carrier Safety Administration
License #MC-843754-B
National Motor Freight Traffic Association's Standard Carrier
Alpha Code #JBHW (Trucking)
Alpha Code #JBHD (International Sea Shipping)
FDA - US Food & Drug Administration
North American Service
These services are provided in All 50 States and throughout North America
Vehicle Transport
Enclosed Transport
Classic & Restored
Motorcycle
Boats
RV & Coaches
Modified Vehicles
General Freight
Heavy Machinery
Agricultural Equipment
Mining Equipment
Oil & Energy
Oversized & Overweight
Ocean Freight
Air Freight
Rail & Intermodal
Drayage
Customs Clearance
FDA Clearance & Certification
Inspections Prior to Shipping*
Warehousing
Dry Food/Goods
Temperature Controlled Cargo
Household Goods & Relocation Services
Import Services
If you require service not seen in this list please reach out to one of our agents and we can provide options for your specific shipping needs. We are not limited to what you see listed.
Contact us today to learn more.